Fix your floor with our Deck45 tiles
Deck45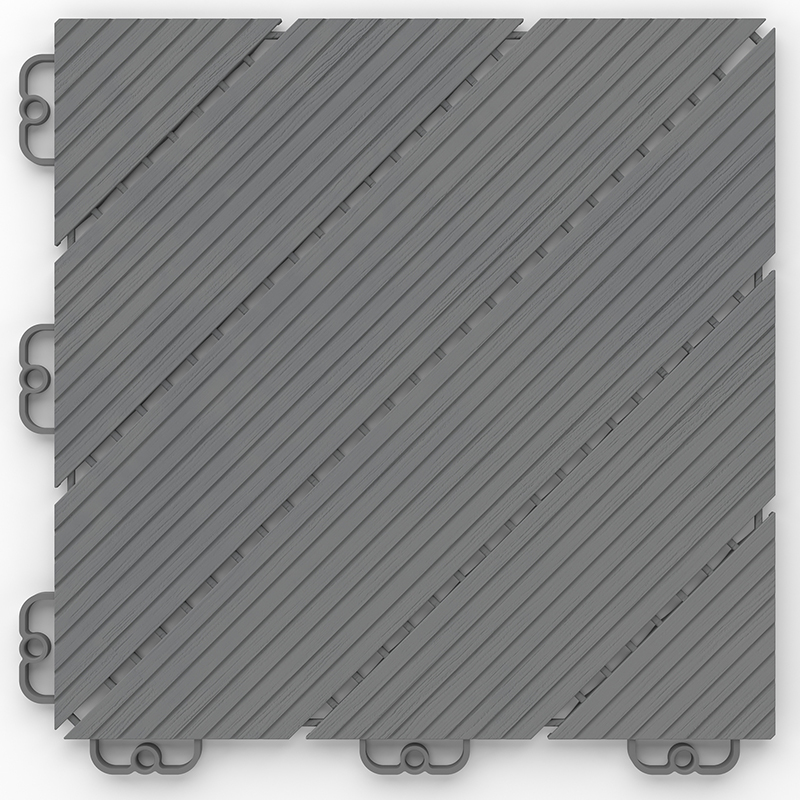 Deck45 floor tile by HestraPlattan
Ship deck-style or an eye-catching pattern for your patio or balcony? Then this is the flooring for you.
Deck45 is our latest floor tile. It looks like real wood but won't leave any splinters in your feet. Deck45 comes in four different colours: Soft Grey, Soft Brown, Antique and Mahogany.
The tiles' name is a reflection of the 45-degree angle of its pattern, which lets you lay out the tiles in different combinations. Below, you'll find inspiration and pattern suggestions. Did you come up with another pattern, or are you particularly satisfied with your new floor? Upload a picture on Instagram and tag it #hestraplattan!
A natural look and gorgeous colour palette.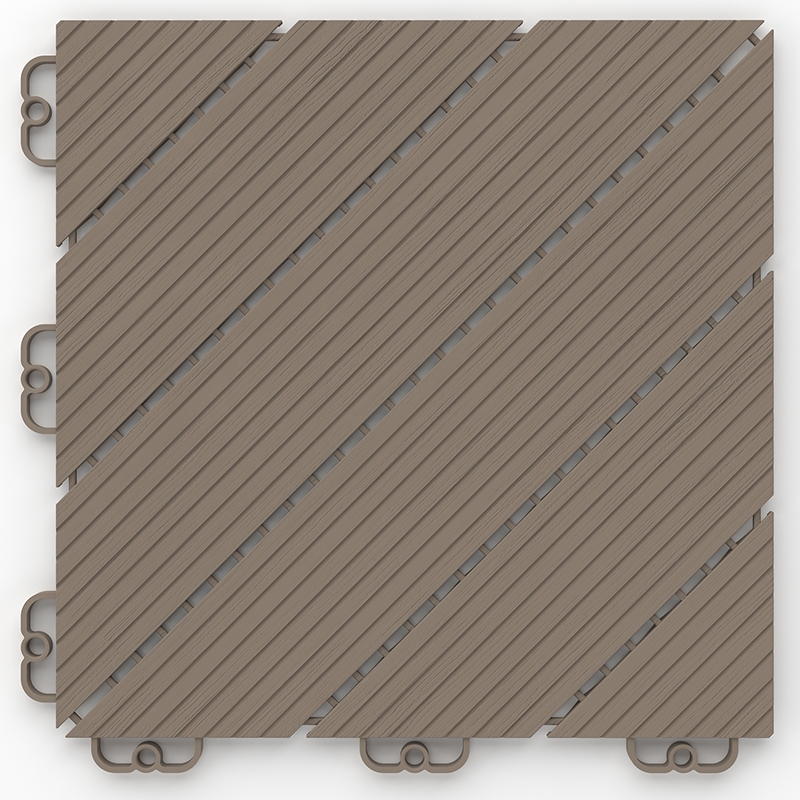 A matte brown that is easy to combine with other colours.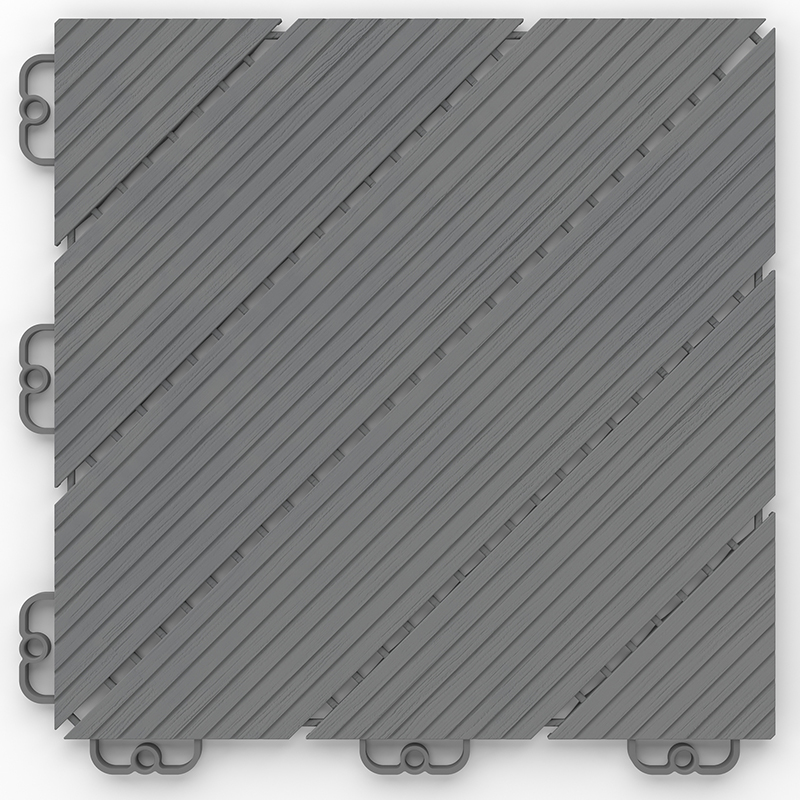 A minimalistic and sober colour that looks great on most balconies and patios.
An exciting, natural shade that really pops in the right place.
Inspiration and instruction! Check out when we install two types of patterns using Deck45.
Ways of laying out your Deck45 tiles
You can lay out your floor tiles any way you want. But getting some inspiration always helps. Maybe you'd like your tiles to form an eye-catching pattern?
To the right, we've suggested two ways to achieve just that. If you come up with another pattern you'd love to share with the world, make sure to upload a picture on Instagram using the hashtag #hestraplattan!
Your screen settings may affect how the colours of the tiles are shown.
Flooring tile size
Overall dimensions: 316×316 mm. Height 8 mm
Material
Made of 100% recyclable polypropylene composite (PP).
Added UV stabiliser to withstand long-term outdoor use. Developed in accordance with REACH directives.
Packaging
1 m2 / fp = 11 tiles
Loading
50 tonnes/m2
Maintenance
If necessary, the floor can be vacuumed or swabbed, washed with high pressure cleaner or rinsed off with a garden hose.
Lift the floor and clean underneath if necessary.
Calculating
Enter the length and width of the floor in cm. We shall calculate how much material you need!
Area: sq m
Number of tiles:
Number of packages:
THIS IS HOW EASY IT IS TO LAY YOUR FLOOR
Assembly and disassembly using a simple plug-in system. Easy to install without tools.
1. Leave a gap of 15 mm to fixed installations. The surface should be flat. When laying in a garage, we recommend that the outer row of the floor is secured with screws to prevent the floor moving.
For larger installations contact your sales representative.
2. Recess pieces can be cut out with a saw or jigsaw.
3. Edge and corner strips are available as accessories and are sold separately.
4. Use the accompanying coupling to connect the edging/corner strip to the plain side.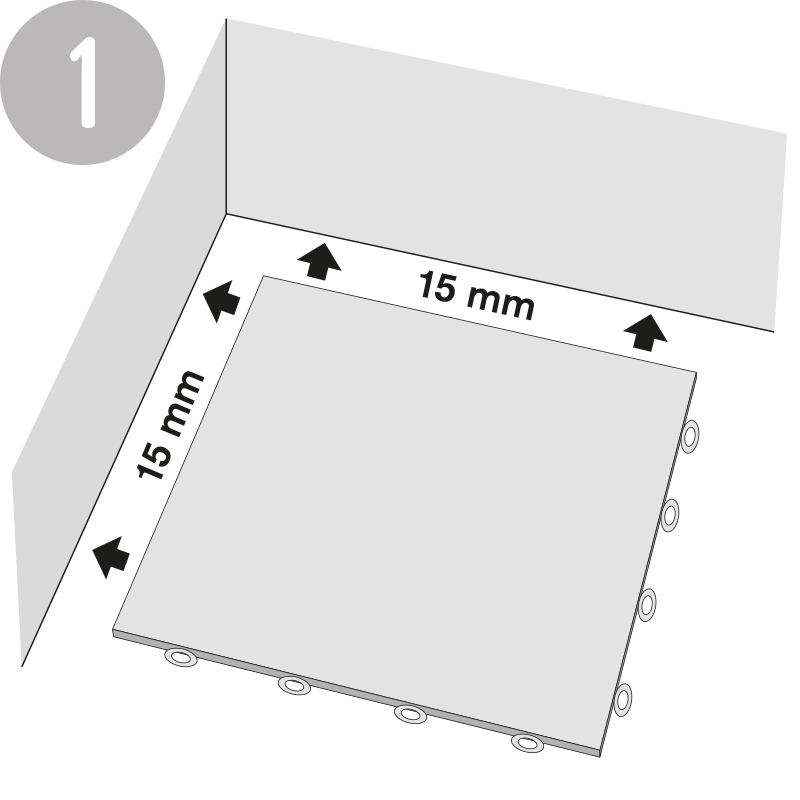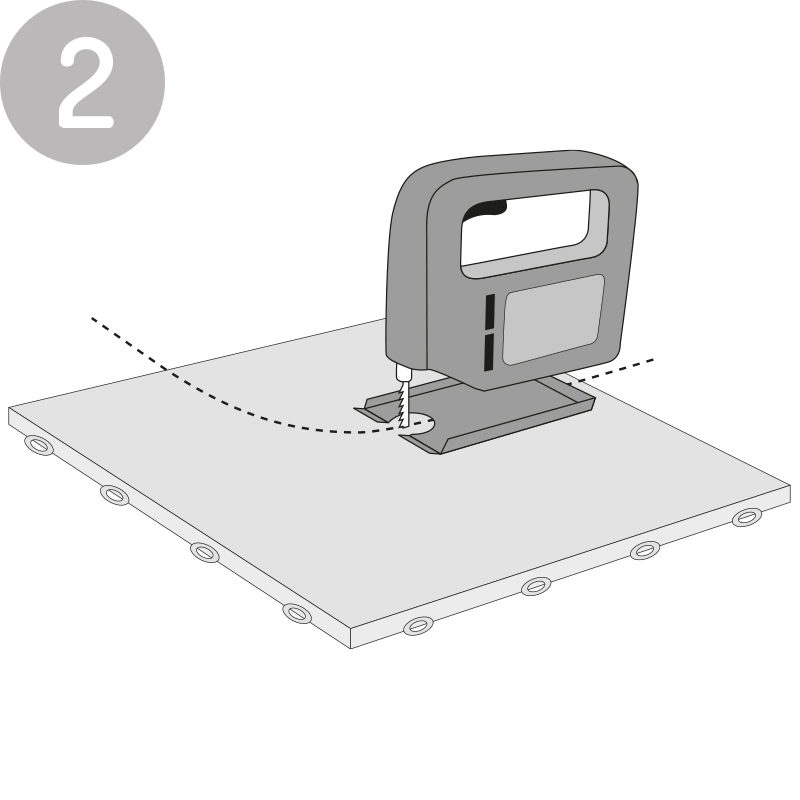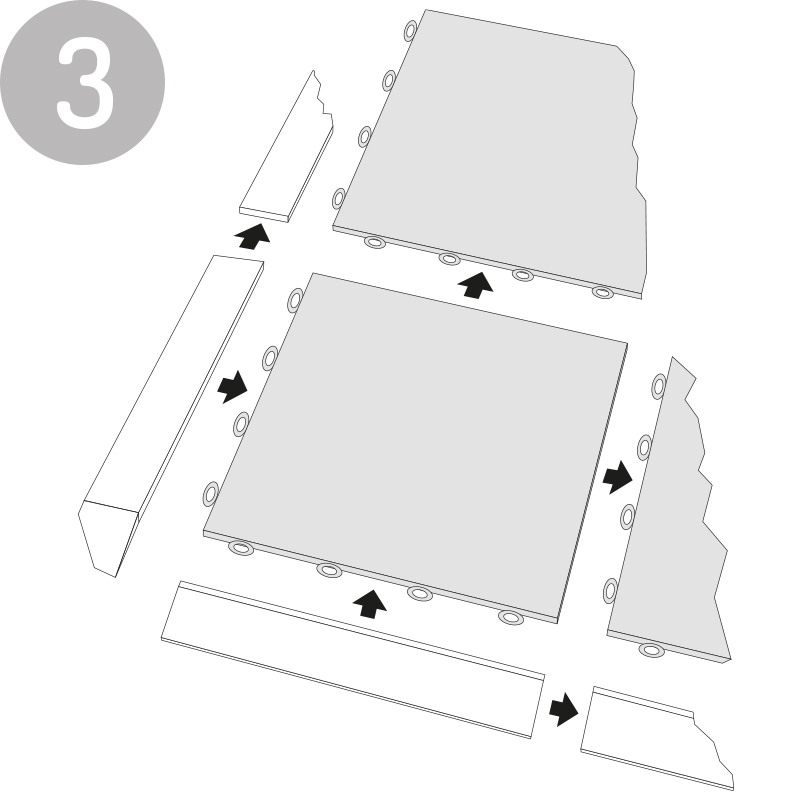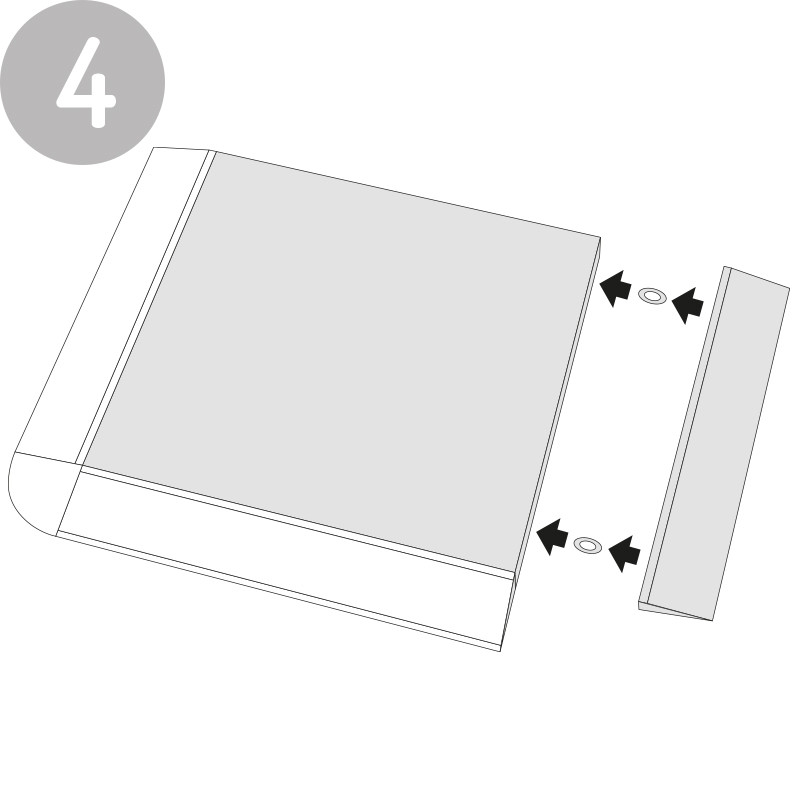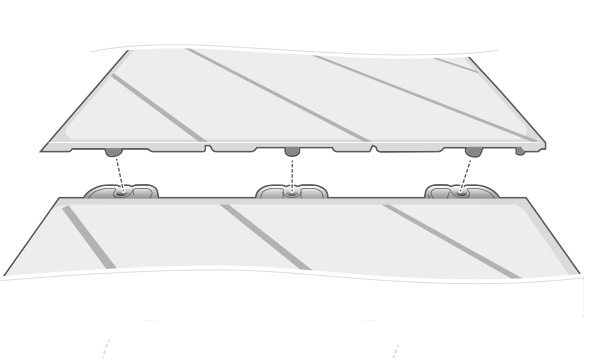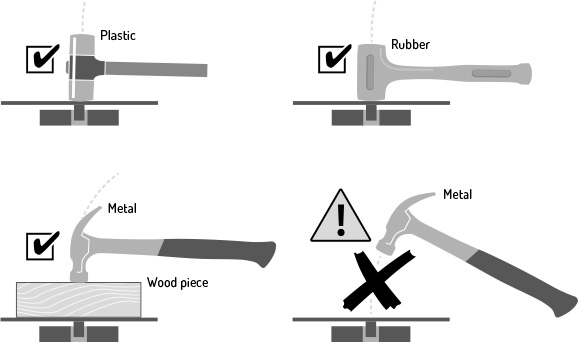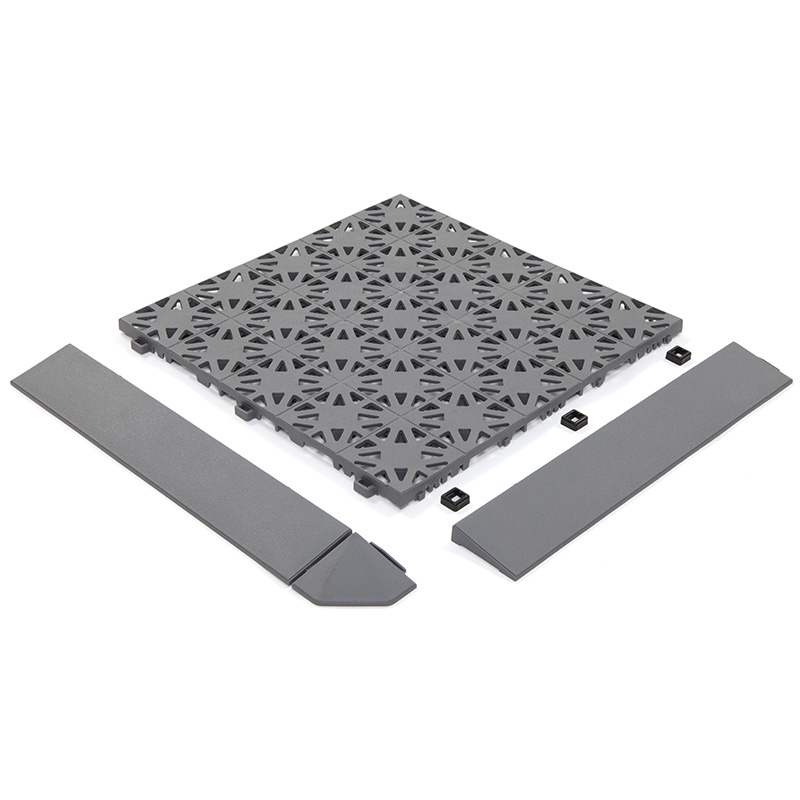 Get a nice finish with edge and corner strip. Width 55 mm.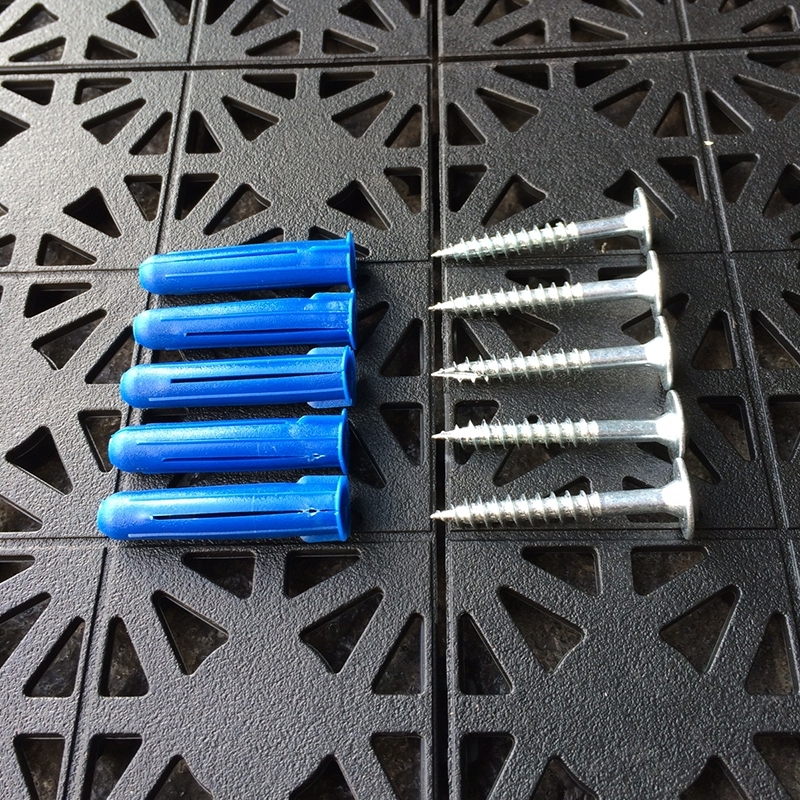 Developed for installations where the outer edges are unprotected and exposed to extra great pressure. For example, at the entrance to a garage.
A disassembly tool helps when picking up your floor tiles. Using the tool, you can divide the floor into larger sections before moving or cleaning.