Fix the floor
A completely different feel with an attractive and practical floor. In the sauna.
WoodLook flooring tile by Hestraplattan
To be able to mimic wood but still retain all the advantages of plastic. That was our vision when WoodLook was developed. The smart design allows you to rotate individual floor tiles 90 degrees. This gives you the freedom to create your own personal floor installation! 
The floor tiles in our WoodLook series require less maintenance than traditional wooden decking. Forget the oiling in and getting splinters in your feet.
 WoodLook is a high quality Swedish-made floor in pure, 100% recyclable, polypropylene composite that can withstand most things. Easy to install, add to and maintain.
There are edging and corner strips for the floor that help you obtain a nice finish where needed.
The floor tile has a built-in expansion function but outdoors it is best suited for smaller installations, under 20 sq m.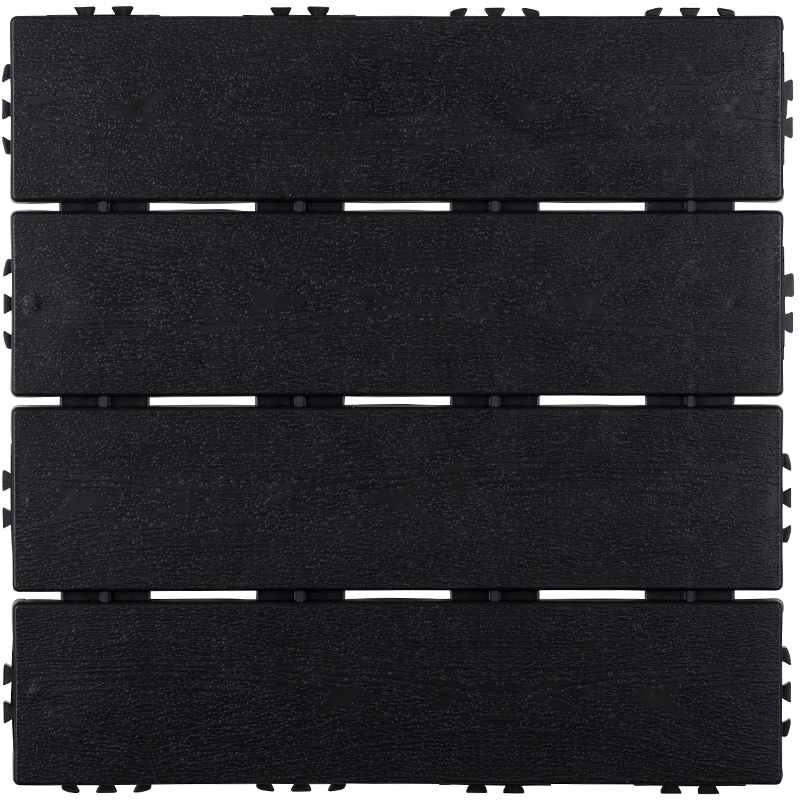 Black Elegance suits patios and balconies well or perhaps around the pool.
A dark shade of grey that is attractive around the pool or on the terrace, balcony or similar.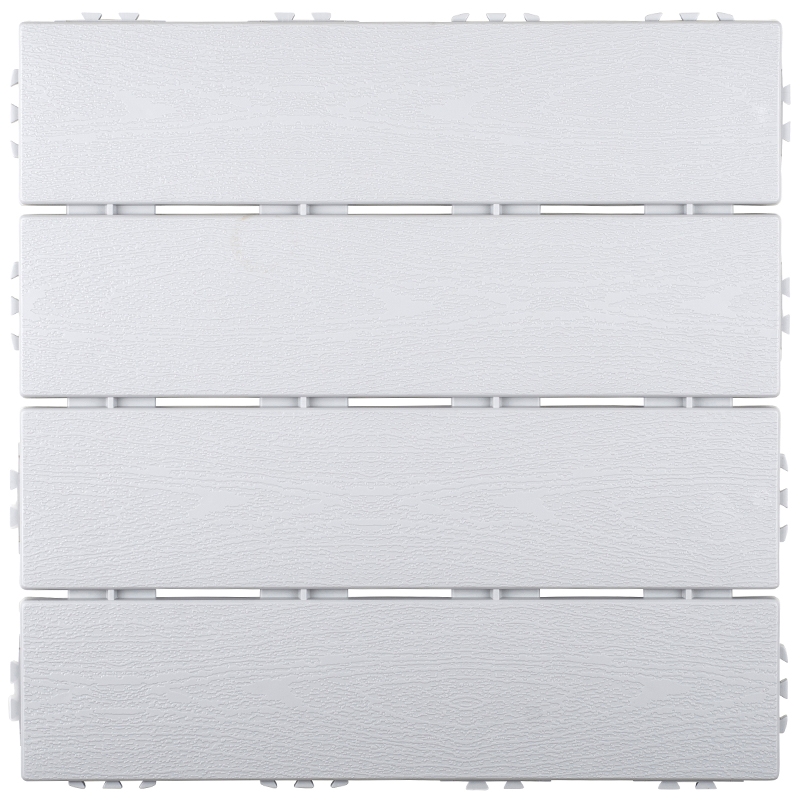 Glacier grey tile that suits many spaces and is easy to match with any attractive colour, for instance, on textiles and furniture.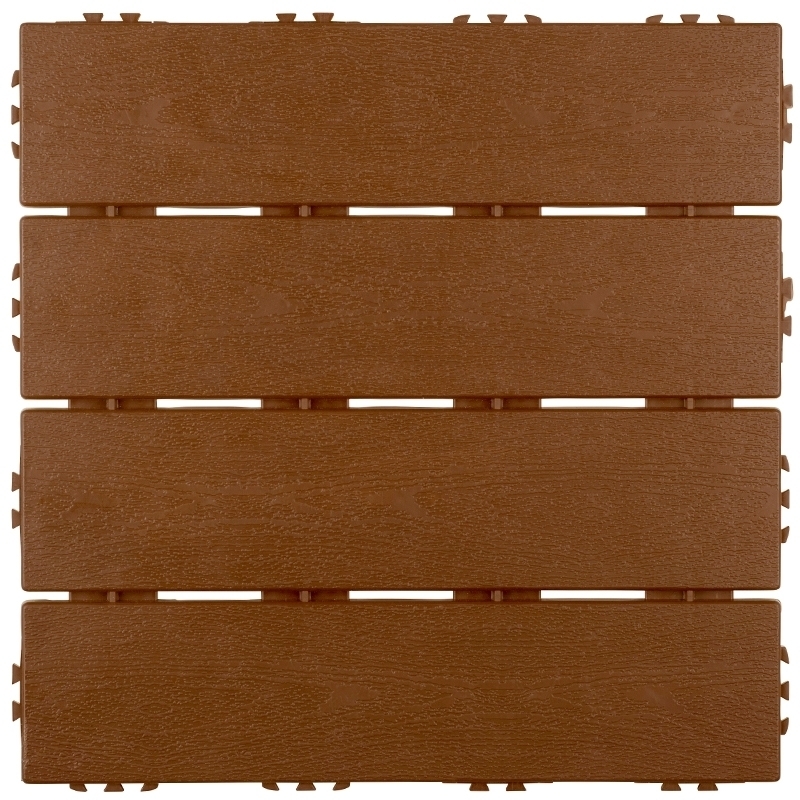 Deep oak-coloured floor tile that looks good with green plants, perhaps on the balcony or patio.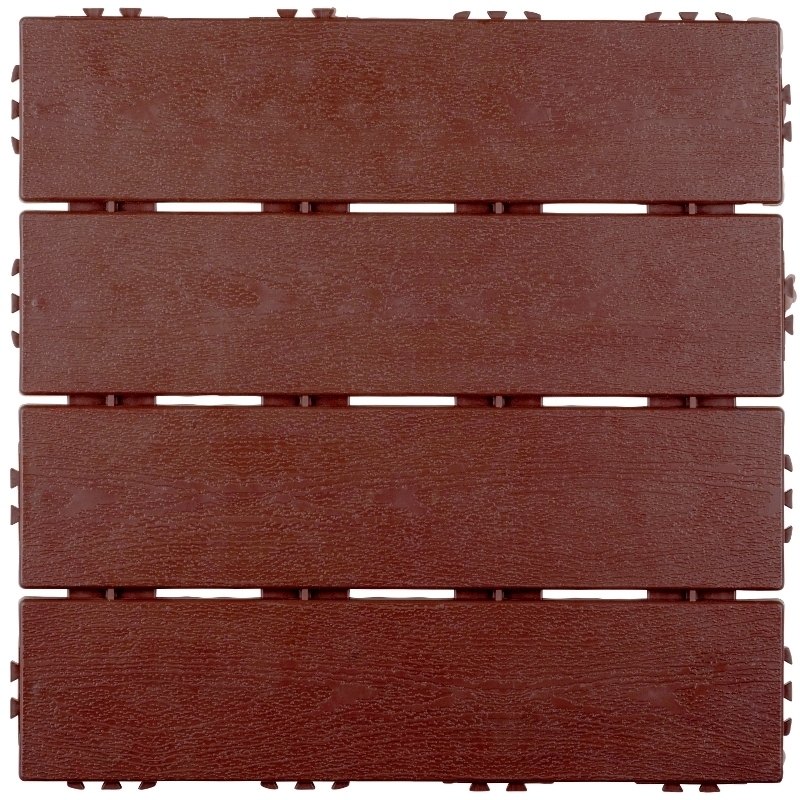 Mahogany-coloured floor tile. Deep, warm colour that looks stylish in many places.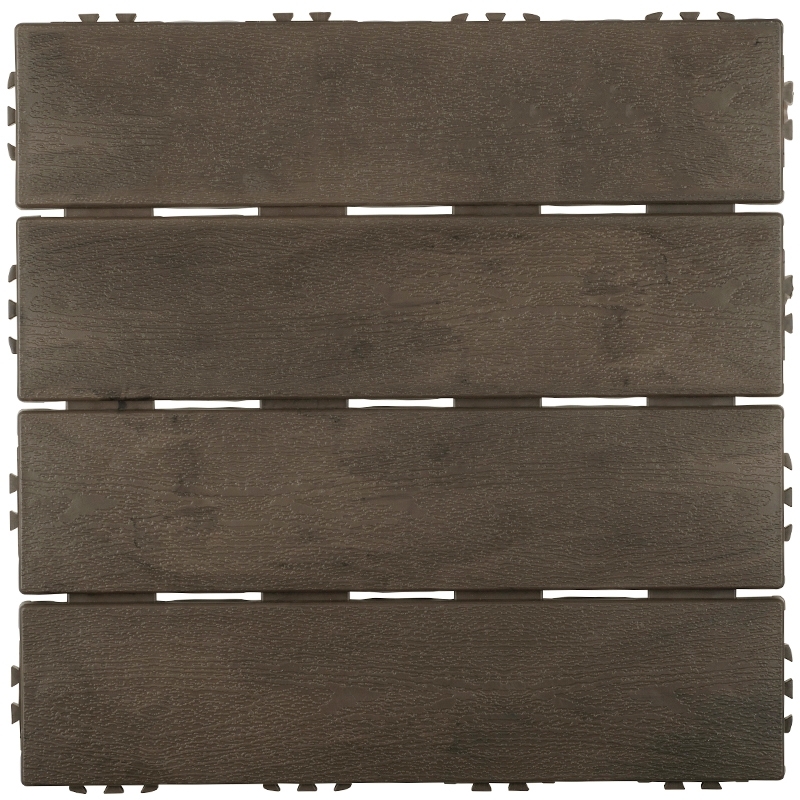 Different shades form a lifelike look and each tile is unique in its expression.
Your screen settings may affect how the colours of the tiles are shown.
Flooring tile size
Overall dimensions: 300×300 mm. Height: 12 mm
Material
Made of 100% recyclable polypropylene composite (PP). Added UV stabiliser to withstand long-term outdoor use. Developed in accordance with REACH directives.
Packaging
1 m2 / pack = 11 tiles
Maintenance
If necessary, the floor can be vacuumed or swabbed, washed with high pressure cleaner or rinsed off with a garden hose. Lift the floor and clean underneath if necessary.
Calculating
Enter the length and width of the floor in cm. We shall calculate how much material you need!
Area: sq m
Number of Tiles:
Number of packages:
THIS IS HOW EASY IT IS TO LAY YOUR FLOOR 
Assembly and disassembly using a simple plug-in system. Easy to install without tools.
1. Leave a gap of 15 mm to fixed installations. The surface should be flat. For larger installations for a public environment, contact your sales representative.
2. Recess pieces can be cut out with a saw or jigsaw.
3. Edge and corner strips are available as accessories and are sold separately.
4. Use the accompanying coupling to connect the edging/corner strip to the plain side.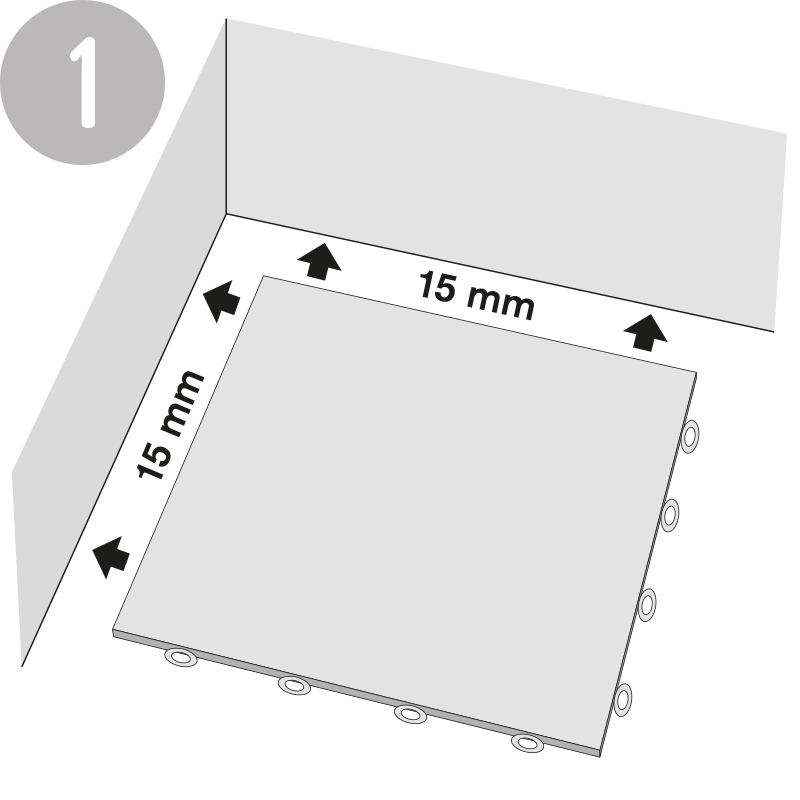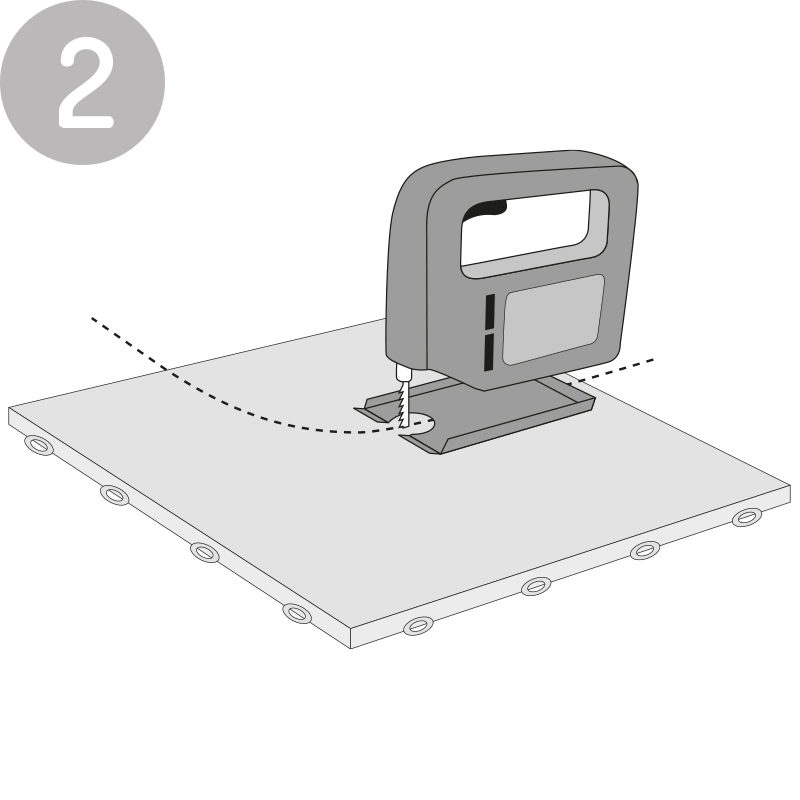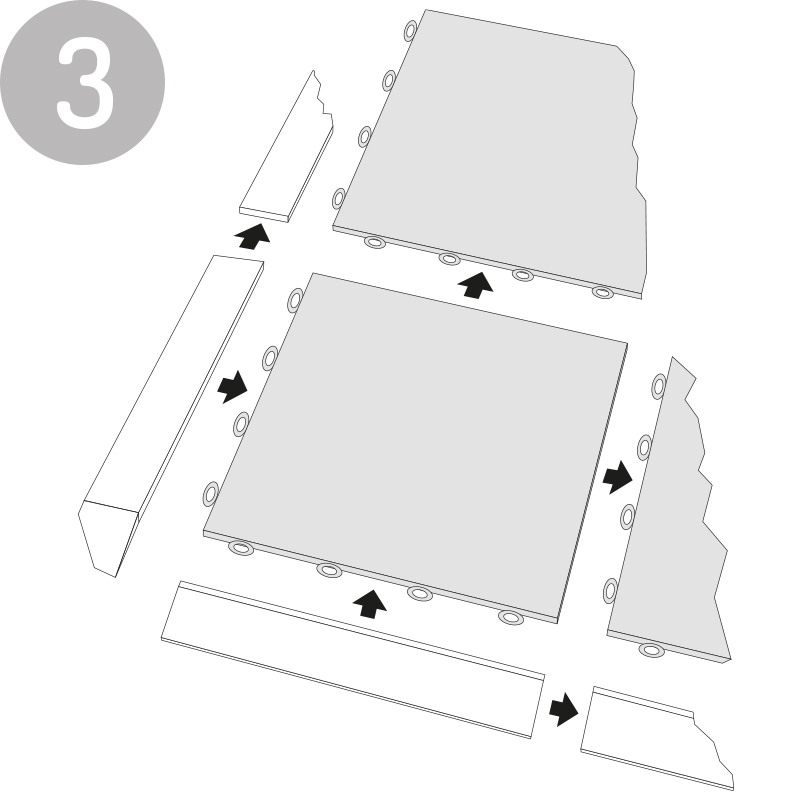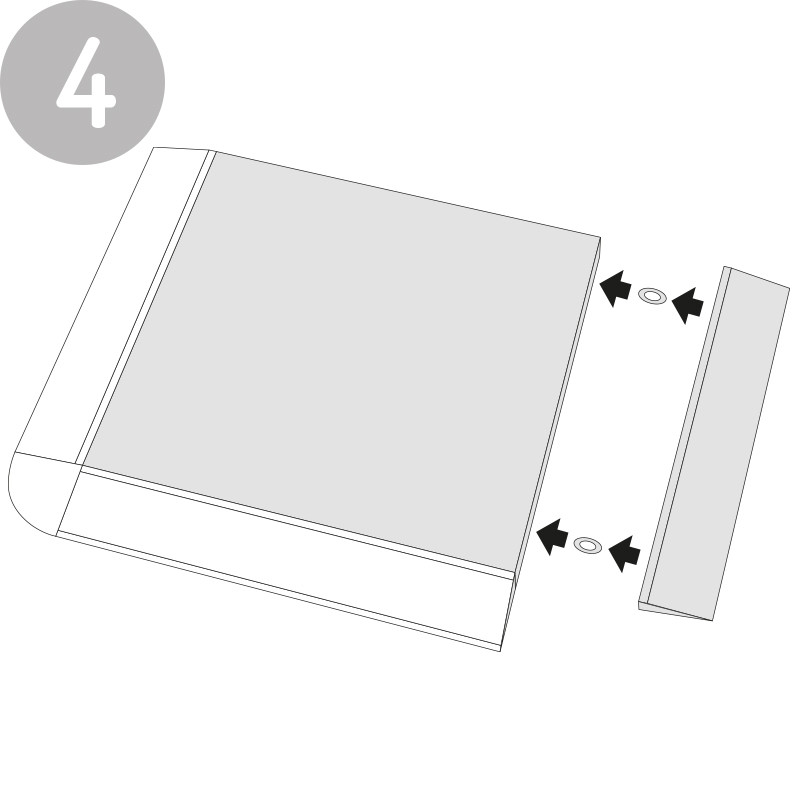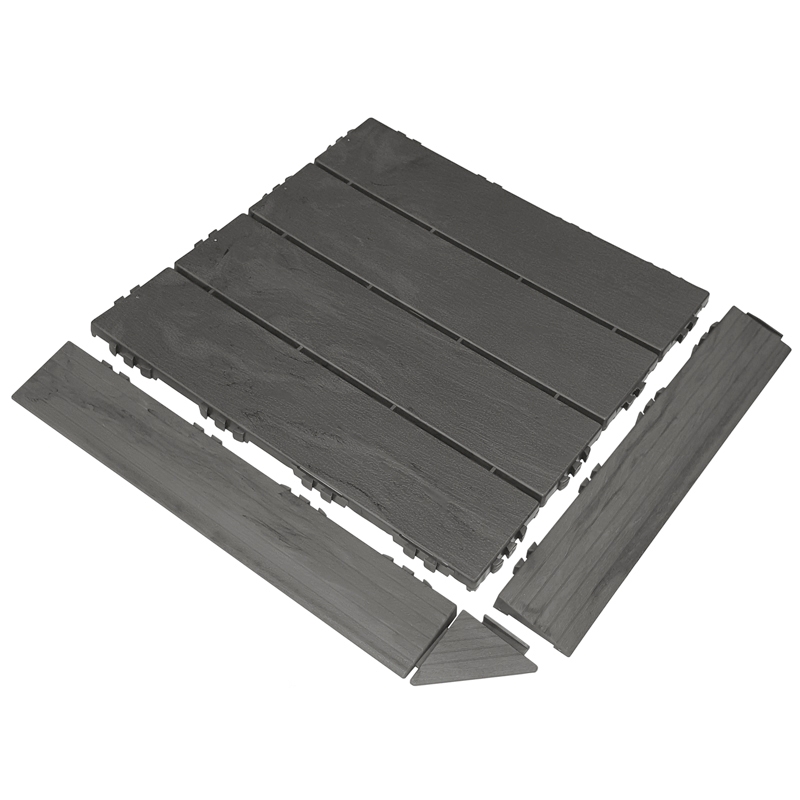 Get a nice finish with edge and corner strip. Width 55 mm.
A disassembly tool helps when picking up your floor tiles. Using the tool, you can divide the floor into larger sections before moving or cleaning.
We love our floor in the sauna. So easy to install and it feels cosy.